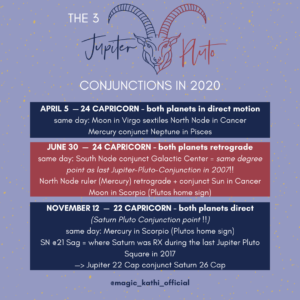 2020 blesses us with 3 Jupiter Pluto Conjunctions in Capricorn! When Jupiter, the planet of expansion, truth & opportunities meets up with Pluto, the planet of death, rebirth & transformation, CHANGE is inevitable. There is no way we can escape it. Jupiter makes it big & bigger, but also helps us to see the new opportunities after the transformation.
In 2020 Jupiter meets up with Pluto not only once, not twice, but 3 (!) times!!
This alone indicates that 2020 is a BIG year of deaths, rebirths, but also a collective OPPORTUNITY to RISE like the phoenix from the ashes.
The 2nd + 3rd conjunction are especially significant, since our collective destiny (North Node/South Node) shifts into the sign that is ruled by Jupiter!!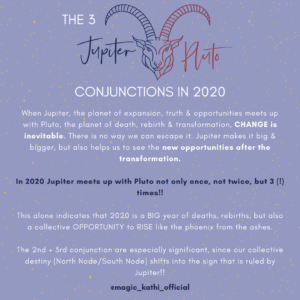 What is the Jupiter Pluto Conjunction?
the SATURN PLUTO CONJUNCTION was only the BEGINNING of our crazy ride through the ASTROLOGY OF 2020 ? ? ? ✨
⠀⠀⠀⠀⠀⠀⠀⠀
A new 2020 would be my favorite year ever since 2 of my favorite planets – JUPITER & PLUTO – will meet 3 times ??
⠀⠀⠀⠀⠀⠀⠀⠀
…okay most people won't think that's a reason for celebration, BUT I do! Finally people get a glimpse of my life – celebrating every painful DEATH EXPERIENCE (8th house ☀️ conjunct chiron, opposite saturn ?) while KNOWING that every death means TRANSFORMATION & space to build something NEW from the ground!
⠀⠀⠀⠀⠀⠀⠀⠀
The truth can't be hidden anymore in 2020. That's over. You can't hide, we can't hide, the world can't hide. It's a major INTEGRITY check & a check in with our TRUST MUSCLE TOO! And ultimately if we are in alignment with our soul (pluto) – cause the only reason we are on this earth is to help the universe expand through transformation & discovering the truth (Jupiter)
⠀⠀⠀⠀⠀⠀⠀⠀
The question is: what false truths need to die? What truths did we buy into that kept us from following our soul contract?
⠀⠀⠀⠀⠀⠀⠀⠀
I could write books with questions to journal on with these 3 conjunctions, but instead, I invite you to a DEEP DIVE WEBINAR WHERE WE ⠀⠀⠀⠀⠀⠀⠀⠀
? TALK ABOUT EACH CONJUNCTION CHART INDIVIDUALLY
? LOOK INTO THE MERCURY RX CYCLES IN 2020 & why they are a piece of the JPCs
? BRING IT INTO CONTEXT TO THE LAST JPC in SAGITTARIUS in 2007
? UNDERSTAND THE INDIVIDUAL & COLLECTIVE EVOLUTIONARY LESSON
? BRING IT INTO CONTEXT OF THE CRAZY WORLDLY EVENTS IN 2020
GET ACCESS TO THE WEBINAR BY SUBMITTING 20.20 Euros TO THE LINK (CLICK THE IMAGE)