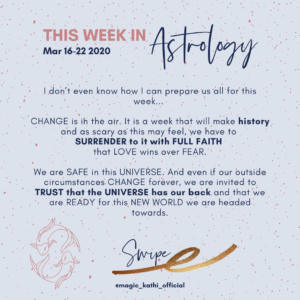 Covid-19, closed borders, social isolation and much more. And now it's here – the week that will make HISTORY. We've been preparing for it for months and it feels like the TRANSFORMATION we've been through on a personal level since July 2019 will now be NEEDED to contribute to LIGHT & LOVE during this big shift.
⠀⠀⠀⠀⠀⠀⠀⠀
The NEW YEAR is here.
SATURN ? in AQUARIUS ♒️ is here.
MAJOR conjunctions are here.
⠀⠀⠀⠀⠀⠀⠀
but what is even more important:
WE ARE HERE! ?
– and we are here right now in this moment FOR A REASON!
⠀⠀⠀⠀⠀⠀⠀⠀
All of your CAPRICORN ♑️ PLACEMENTS are NEEDED this week and beyond! If anything you will now understand WHY you have them and HOW you can use them to bring forth the CHANGE ❤️
⠀⠀⠀⠀⠀⠀⠀⠀
I'm sending you all LOVE & LIGHT as well as I sit here with my Capricorn ♑️ stellium wondering if what my soul chose is bigger than myself.
⠀⠀⠀⠀⠀⠀⠀⠀
But I know we are guided. And even the smallest things make SUCH AN IMPACT ? YOU GOT THIS – and so do I! we are in this together ?
⠀⠀⠀⠀⠀⠀⠀
Please SHARE & SPREAD THE WORD so these messages can reach more people during these times ?
⠀⠀⠀⠀⠀⠀⠀⠀
✨?❤️
Monday March 16
Mercury reenters Pisces
The start of this week sets the foundation for everything that is coming. When Mercury reenters PISCES, we are invited to connect to SPIRIT, SOURCE, THE UNIVERSE – but more than anything: LOVE & COMPASSION!
It's easy to isolate oneself out of fear or to avoid certain nationalities out of "risk". But we have to remember that no border in the world can stop a virus from spreading. Borders, passports & nationalities are man made structures of our old world. At the core of it we are all ONE!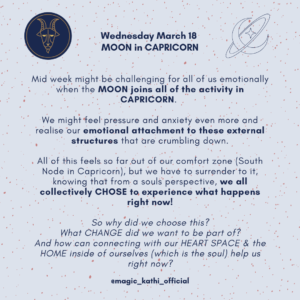 Wednesday March 18
Moon in Capricorn
Mid week might be challenging for all of us emotionally when the MOON joins all of the activity in CAPRICORN. We might feel pressure and anxiety even more and realise our emotional attachment to these external structures that are crumbling down.
All of this feels so far out of our comfort zone (South Node in Capricorn), but we have to surrender to it, knowing that from a souls perspective, we all collectively CHOSE to experience what happens right now!
So why did we choose this?
What CHANGE did we want to be part of?
And how can connecting with our HEART SPACE & the HOME inside of ourselves (which is the soul) help us right now?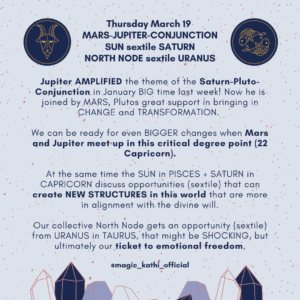 Thursday March 19
MARS-JUPITER-CONJUNCTION
SUN sextile SATURN
NN sextile URANUS
Jupiter AMPLIFIED the theme of the Saturn-Pluto-Conjunction in January BIG time last week! Now he is joined by MARS, Plutos great support in bringing in CHANGE and TRANSFORMATION. We can be ready for even BIGGER changes when Mars and Jupiter meet up in this critical degree point (22 Capricorn).
At the same time the SUN in PISCES + SATURN in CAPRICORN discuss opportunities (sextile) that can create NEW STRUCTURES in this world that are more in alignment with the divine will.
Our collective North Node gets an opportunity (sextile) from URANUS in TAURUS, that might be SHOCKING, but ultimately our ticket to emotional freedom.
Friday March 20
New Year: Sun enters Aries
It's here. THE NEW YEAR. And with it the start of a NEW WORLD. When the SUN enters ARIES, we set the tone for the upcoming astrological year. This one looks like MASSIVE change.
Lilith & Chiron hold hands.
Mars & Jupiter sit at the Saturn-Pluto-Conjunction point
The moon is in AQUARIUS, preparing us for the BIG SHIFT with Saturn in Aquarius & opening us up to think collectively, not self centred.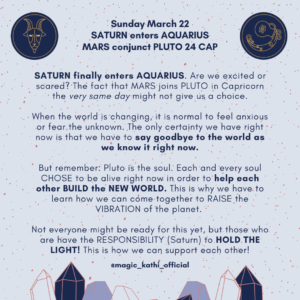 SATURN finally enters AQUARIUS. Are we excited or scared? The fact that Mars joins PLUTO in Capricorn the very same day might not give us a choice.
When the world is changing, it is normal to feel anxious or fear the unknown. The only certainty we have right now is that we have to say goodbye to the world as we know it right now.
But remember: Pluto is the soul. Each and every soul CHOSE to be alive right now in order to help each other BUILD the NEW WORLD. This is why we have to learn how we can come together to RAISE the VIBRATION of the planet. Not everyone might be ready for this yet, but those who are have the RESPONSIBILITY (Saturn) to HOLD THE LIGHT! This is how we can support each other!
IF YOU SEEK SOME EXTRA SUPPORT IN THESE CHALLENGING TIMES, FEEL FREE TO BOOK A READING WITH ME. I'D LOVE TO HOLD SPACE FOR YOU – there is a COVID-19 SPECIAL right now. Payment plans are available as well!
xoxo
Kathi