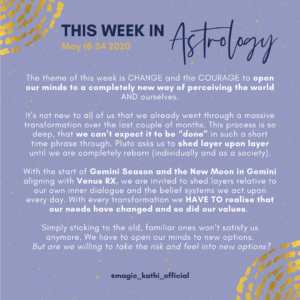 GOODBYE ♉️ HELLO GEMINI ♊️ 🌈
The cosmos never sleeps, guys! Can you believe we already made it through Taurus Season? Even though it's a rather "slow" sign, it felt like the past few weeks FLEW BY!!
⠀⠀⠀⠀⠀⠀⠀⠀
Gemini ♊️ Season won't be any different – in fact, things could speed up regardless of our 4 retrograde in the sky!
⠀⠀⠀⠀⠀⠀⠀⠀
We already start with the NEW MOON 🌚 IM GEMINI ♊️ this week – which meeeeeaanssss its only 2 WEEKS UNTIL ECLIPSE SEASON IS HERE 🔥👀🙇🏼‍♀️ – yep, that's right! We are already preparing for the 3 eclipses ahead 🌪
⠀⠀⠀⠀⠀⠀⠀⠀
I guess that's the universes way of letting us know: humans, you can rest while you sleep … or well, forget about that, cause even while you sleep you are shedding layer upon layer this year 🙃🔮💭🌌🛸
⠀⠀⠀⠀⠀⠀⠀⠀
No need to panic though! We will make it through & come out on the other side with much more clarity, happiness & strength ❤️
⠀⠀⠀⠀⠀⠀⠀⠀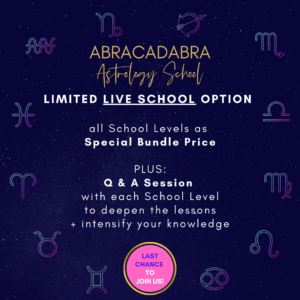 ⠀
PS. this is the FINAL COUNTDOWN for the ABRACADABRA SCHOOL!! 🙌🏻🔮🌌🙇🏼‍♀️ If you want to support yourself in understanding the LANGUAGE OF YOUR SOUL – aka Astrology- then join us before the New Moon in Gemini when the LIMITED LIVE SCHOOL BUNDLE 💸💸 expires!! 🌟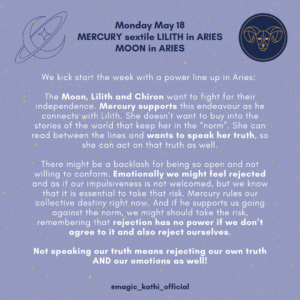 Build up before Gemini Season
We kick start the week with a power line up in Aries: The Moon, Lilith and Chiron want to fight for their independence. Mercury supports this endeavour as he connects with Lilith. She doesn't want to buy into the stories of the world that keep her in the "norm". She can read between the lines and wants to speak her truth, so she can act on that truth as well.
There might be a backlash for being so open and not willing to conform. Emotionally we might feel rejected and as if our impulsiveness is not welcomed. But we know that it is essential to take that risk. Mercury rules our collective destiny right now. And if he supports us going against the norm, we might should take the risk, remembering that rejection has no power if we don't agree to it and also reject ourselves.
Not speaking our truth means rejecting our own truth AND our emotions as well!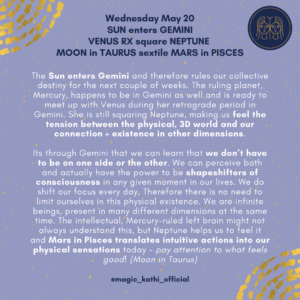 Hello Gemini Season 2020!
The Sun enters Gemini and therefore rules our collective destiny for the next couple of weeks. The ruling planet, Mercury, happens to be in Gemini as well and is ready to meet up with Venus during her retrograde period in Gemini. She is still squaring Neptune, making us feel the tension between the physical, 3D world and our connection + existence in other dimensions.
Its through Gemini that we can learn that we don't have to be on one side or the other. We can perceive both. We actually have the power to be shapeshifter of consciousness in any given moment in our lives. We do shift our focus every day. Therefore there is no need to limit ourselves in this physical existence. We are infinite beings, present in many different dimensions at the same time. The intellectual, Mercury-ruled left brain might not always understand this, but Neptune helps us to feel it and Mars in Pisces translates intuitive actions into our physical sensations today – pay attention to what feels good! (Moon in Taurus)
New Moon in Gemini 2020
Mercury just finished his meeting (conjunction) with Venus in Gemini when the New Moon in Gemini occurs. As the ruler of this New Moon AND our collective destiny, he now infuses every area of our life with his new understanding about our values and needs, that had to be transformed over the last couple of months.
It's with the New Moon in Gemini that we realise how powerful words are. The mind is the origin of all existence. Everything we create starts in the mind and is first perceived by our thoughts. So what are the NEW THOUGHT PATTERNS that need to be established in order to create a life that is more in alignment with our soul?
We have changed. We change every day. So it is only natural to also change our belief systems, to release old ones and replace them with new ones. With this New Moon we are invited to give our new values a voice. This way they don't just internally, but also externally reflect the reality we consciously want to create.