In true Taurus ♉️ fashion this week seems a lot slower & not as packed with crazy alignments in the sky ?
⠀⠀⠀⠀⠀⠀⠀⠀
It might also be Pluto Retrograde & our cosmic invitation to REFLECT on the changes in the outside world ? so we can move forward with NEW VALUES & a new understanding of our own NEEDS ❤️
⠀⠀⠀⠀⠀⠀⠀⠀
This week might bring a SUDDEN BREAKTHROUGH in that area btw ? cause there is a lot of MERCURIAL activity going on. What seems slow is NOT SLOW AT ALL in our minds
Mercury in Taurus
After Mercurys time in Pisces felt like forever, his journey through Aries was rather quick. A lot more facts are on the table and we are less blurred by illusions.
Our voice has its power back and through that many people found the VALUE of having a VOICE in this world in the first place. Freedom of speech seems like a core value that we are very passionate about at the moment. Let's see what other values and needs we will give a voice while Mercury is in Taurus and even supported by the Sun and Uranus!
Here we go. Mercury faces his first challenge as he is squaring Saturn in Aquarius. We might be restricted in sharing what we need and truly value right now – especially online (Aquarius).
Aquarius is freedom as well, but Saturn is restricting our freedom to share what we are passionate about. This can mean we have to fact check before we share everything in public. This might also mean we have to fact check who is actually behind the restriction in the first place and if we want to accept that moving forward.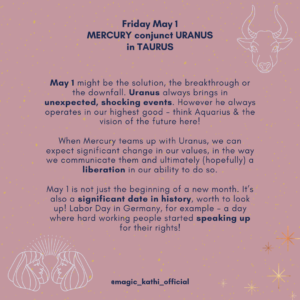 Mercury conjunct Uranus
May 1 might be the solution, the breakthrough or the downfall. Uranus always brings in unexpected, shocking events. However he always operates in our highest good – think Aquarius & the vision of the future here!
When Mercury teams up with Uranus, we can expect significant change in our values, in the way we communicate them and ultimately (hopefully) a liberation in our ability to do so.
May 1 is not just the beginning of a new month. It's also a significant date in history, worth to look up! Labor Day in Germany, for example – a day where hard working people started speaking up for their rights!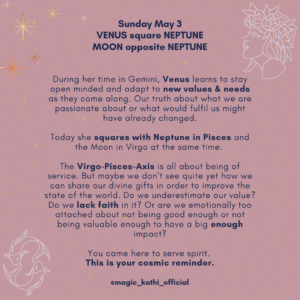 For more Astrology Insights, check out the NEW ABRACADABRA ASTROLOGY SCHOOL and The Magic Kathi Show on all podcast platforms!
xoxo
Kathi