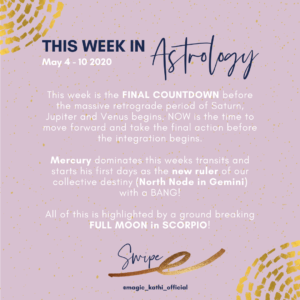 WE HAVE A NEW DESTINY with the North Node in Gemini!!!??‍♀️??
⠀⠀⠀⠀⠀⠀⠀⠀
May 2020 is an EXCITING month! So no wonder the first week is already GEM ? PACKED with transits:
⠀⠀⠀⠀⠀⠀⠀⠀
? New North Node in Gemini ♊️ ??‍♀️ New NN ruler = Mercury ?
? Full Moon ? in Scorpio ♏️
??‍♀️ Mercury meets with the Sun ☀️ & connects with Pluto RX & Jupiter (new South Node Ruler)
⠀⠀⠀⠀⠀⠀⠀⠀
What all do this means? SWIPE TO get the INSIGHTS ??
⠀⠀⠀⠀⠀⠀⠀⠀
✨ SAVE this post (especially the 2nd slide!!) to stay on track with our new destiny ??
This week is the FINAL COUNTDOWN before the massive retrograde period of Saturn, Jupiter and Venus begins. NOW is the time to move forward and take the final action before the integration begins.
Mercury dominates this weeks transits and starts his first days as the new ruler of our collective destiny (North Node in Gemini) with a BANG!
The FULL MOON in SCORPIO highlights all of this!!
New Destiny with the North Node in Gemini until 2022
The transiting Nodes of the Moon trigger intense growth and evolution for the collective. We have clearly seen that while the Cancer-Capricorn-Axis was activated by the Nodes and the Eclipses of the last 18 Months.
Now we enter a new Axis in he Zodiac: Gemini (North Node) and Sagittarius (South Node). Until 2022 asking questions will be THE THEME of our lives. No longer can we accept belief systems and truths we get presented. Question EVERYTHING will be your new mantra in your personal life and in the world at large.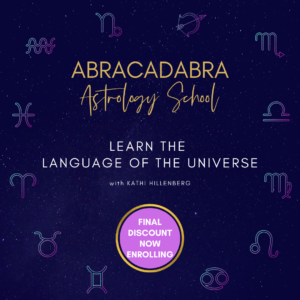 We have to research, collect new information and exchange thoughts and ideas with other people (Gemini) in order to find out what truths and beliefs (Sagittarius) we really want to live by. This is YOUR life. Many people lose their faith & sense of purpose (Sagittarius) because they don't see that they can question beliefs & truths they are told by others to live by. This will now change, so the highest expression of your own intuition can come back & with it a new way of living with each other on earth: open-minded, curious, joyful, optimistic and spiritually connected (the highest expression of the Gemini-Sagittarius-Axis)
Full Moon in Scorpio
The first illumination in the sky after the Moons Nodes shifted into Gemini and Sagittarius happens to be a FULL MOON IN SCORPIO. Who remembers the FULL MOON IN TAURUS last year, that brought us closer to our NEW VALUES and new understanding of our own SELF WORTH?
The FM in SCORPIO brings these topics back. Mercury joins the Sun in Taurus. We might be ready to give our own needs and the new values we have established a VOICE. Neptune in Pisces connects with Mercury & creates an OPPORTUNITY (sextile) for us to see HOW our own earthly experience is the very value we can share. How can we align cosmic soul & human body?
The Moon in Scorpio is ruled by Pluto RX in Capricorn. Our inner world needs an upgrade in order to build a new world for ourselves that is more in alignment with our calling – and yes, that's why the South Node in Sagittarius is the perfect support…what old beliefs/truths do you now need to release?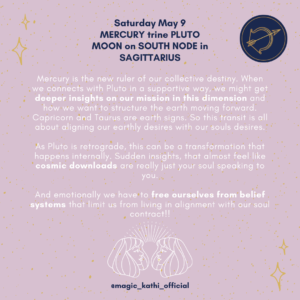 Mercury is the new ruler of our collective destiny. When we connects with Pluto in a supportive way, we might get deeper insights about our mission in this dimension and how we want to structure the earth moving forward. Capricorn and Taurus are earth signs. So this transit is all about aligning our earthly desires with our souls desires.
As Pluto is retrograde, this can be a transformation that happens internally. Sudden insights, that almost feel like cosmic downloads are really just your soul speaking to you.
And emotionally we have to free ourselves from belief systems that limit us from living in alignment with our soul contract!!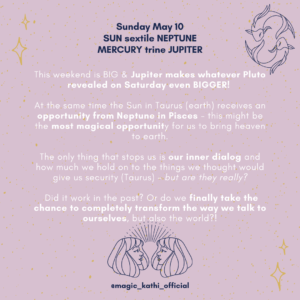 This weekend is BIG & Jupiter makes whatever Pluto revealed on Saturday even BIGGER! At the same time the Sun in Taurus (earth) receives an opportunity from Neptune in Pisces – this might be the most magical opportunity for us to bring heaven to earth.
The only thing that stops us is our inner dialog and how much we hold on to the things we thought would give us security (Taurus) – but are they really? Did it work in the past? Or do we finally take the chance to completely transform the way we talk to ourselves, but also the world?!