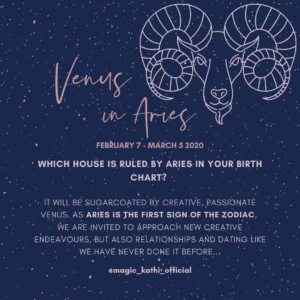 OUR LOVE LIFE GETS A FRESH NEW START WITH VENUS ENTERING ARIES ♈️
⠀⠀⠀⠀⠀⠀⠀⠀
…but Venus is much more than "just" love ? She is passion, creativity, money, self worth, beauty & pleasure – and in Aries, she experiences these things in a completely new way. She is courageous, impulsive and perhaps more adventurous than usual. This might lead to decisions and activities you wouldn't normally do, but there is a sense of drive in the air, that motivates you to go for it!
⠀⠀⠀⠀⠀⠀⠀⠀
Aries ♈️ is the first sign of the zodiac & is far less conditioned by fear, so there could be a chance of ranking more risks than usual, approaching your crush or starting that new project or business. Impulsive like a child, you are invited to go for the creative hits you have during these transit, especially since the upcoming FULL MOON IN LEO ♌️ is all about that too!
⠀⠀⠀⠀⠀⠀⠀
This might be one of the greatest cosmic invitations to finally CREATE WITH YOUR MAGIC ?